Taiwan Accelerator Plus (TAcc+) gathered 24 Taiwan-based startups focused on healthcare and Internet of Things (IoT) technologies on its second demo day.
The startups pitched their ideas to local and overseas investors, government officials and industry veterans.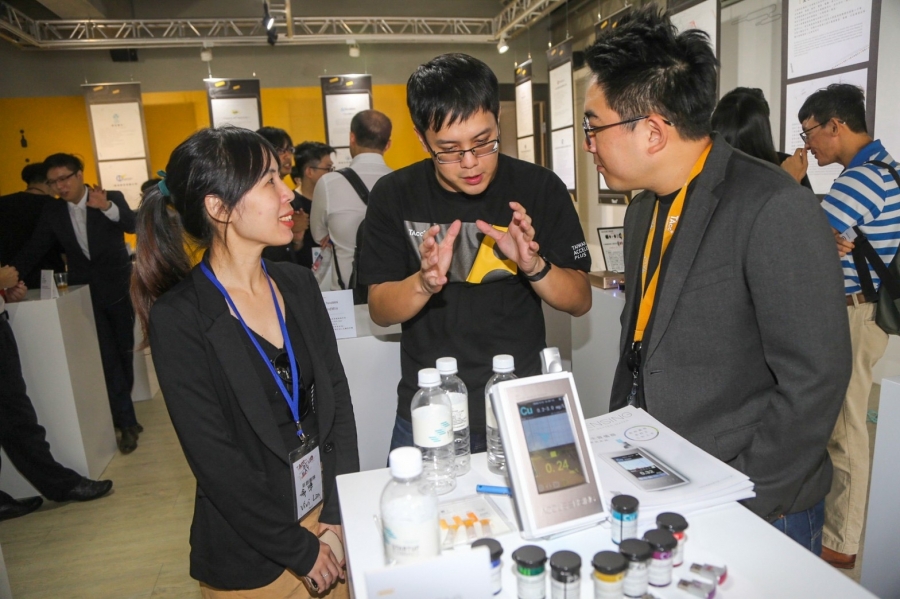 Founded in 2019, TAcc+ is an accelerator program supported by the Small and Medium Business Administration of the Ministry of Economic Affairs of Taiwan.
Below are three startups from TAcc+, who have built solid business models and industry connections through the program.
ConnSante Biotech
ConnSante Biotech conducts comprehensive assessments on body cells and molecules of the immune and tissue repair systems for signals of cancer cells. The check-ups include detecting the molecular, cell and systemic aberrant signal of the immune and tissue repair system involved in the tumorigenesis and cancer progression.
Based on the research studies at National Tsinghua University (NTHU), carcinogen can grow for up to 10 years before causing physical symptoms and one single cancer cell does not necessarily turn into a tumor.
By maintaining proper conditions for cells, an estimation of 80% patients can be cured even if they are exposed to high risk cancers in stomach or liver. The research team at ConnSante Biotech has been working with the National Taiwan University Hospital on almost 2,000 clinical researches and discovered multiple decisive factors on cancer recurrence. The team stressed much on monitoring the development of possible cancer cells and wants to nip them in the bud.
ConnSante Biotech focuses on strengthening people's "cancer-prevention capability." The team believes everyone is a "cancer suspect" and it is best to understand people's tumor related status before it is too late.
Soteria Biotech
Soteria Biotech develops innovative medical solutions and products for sleeping disorders like obstructive sleep apnea syndrome (OSAS). One of them is "Soteria One Point Zero", a cloud based stand-alone software platform; it shows and analyzes patients' head and neck stock images for airway flow characteristics, helping physicians decide whether their airways are obstructed and, if so, at which location.
"Approximately 80% of the world's population have OSAS but are yet to be confirmed," said Honda Hsiao, the CEO of Soteria Biotech. "The service can help quadruple the amount of confirmed cases annually, from 50,000 to 200,000 with an 88% accuracy," Hsiao continued. "As the database keeps building up, doctors can find their patients to find a more suitable mouthpiece to enhance the effectiveness of treatments engaged."
Traditionally, patients with OSAS need to go through a series of complicated nocturnal monitoring of respiratory and cardiac parameters with a sleep specialist. Those checkings may involve examinations on patients' throat, mouth and nose with measurement neck circumference and blood pressure. It is a long test before patients can confirm their status. In addition, physical therapy and surgery are most commonly used to treat the syndrome, but some patients find the physical treatments cumbersome and uncomfortable.
The company has, therefore, developed the Soteria OA (obstructive apnea) Solution, an analytical system for adjusting snoring mouthpiece with tomographic images. The solution has been granted patents from the United States, Taiwan, Singapore and China. Soteria Biotech is now working with dental laboratories and breather manufacturers and expecting to sign partnership with dentist clinics this year.
WellGen Medical
WellGen Medical creates automated microscopes for tuberculosis detection to replace polymerase chain reaction (PCR) for quicker testing and higher accuracy.
PCR is a widely used laboratory technique for making millions to billions of copies of a specific DNA sample rapidly at a lower cost, allowing scientists to take a small sample of DNA and compare it with the DNA samples of known tuberculosis DNA patterns. Currently, doctors need five minutes on average to go through each sample, which means 80 to 100 cases on a daily basis.
With WellGen's automated microscope, the assessment time for each sample is now at two mintues with accuracy of 85% to 90%. By using the automated microscopes, physicians can avoid spending time going through all samples manually.
WellGen also provides a system that accepts the intra- and inter-laboratory variations in staining methodology techniques. The system collects all data and stores them in the database with different combinations of diagnosis results. With cloud computing, the analysis software can update and improve the detection accuracy as the number of samples accumulates.
〔Original :Meet Startup @ TW〕
https://meet.bnext.com.tw/intl/articles/view/46733